6 Jun
2022 Professional Development Day Save The Date
NBCSA's 10th Annual Professional Development Day is scheduled for October 26th, 2022, at the Four Points Sheraton in Moncton NB.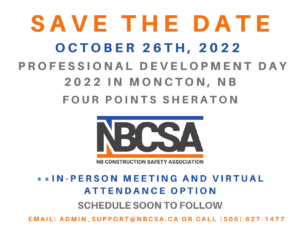 This year's agenda includes a safety awards breakfast, our annual meeting, and presentations by:
Canadian Mental Health Association -Work/ Life Balance
David Power -Why Safety-Related Discipline Can Work.
David Seaboyer- "Slated for Tragedy: Bringing Measurable Good from Immeasurable Grief:"
WorkSafeNB – TBA
We are pleased to be offering both in-person and virtual registration options again this year.
Watch for additional information in future editions of this newsletter, our website, and email promotions.
Remember to nominate your company, co-worker, or health and safety professional for one of our annual safety awards.
Applications for our Safety Awards Nomination Form, click here.
More information on awards, click here.