If the eAuditor program will not open and asks you to choose a file to "Open with" follow these directions:
[These instructions are for Windows 10.]
If eAuditor is properly installed, you can do the following from the "Open with" screen (right click on the icon to open the "Open with" screen).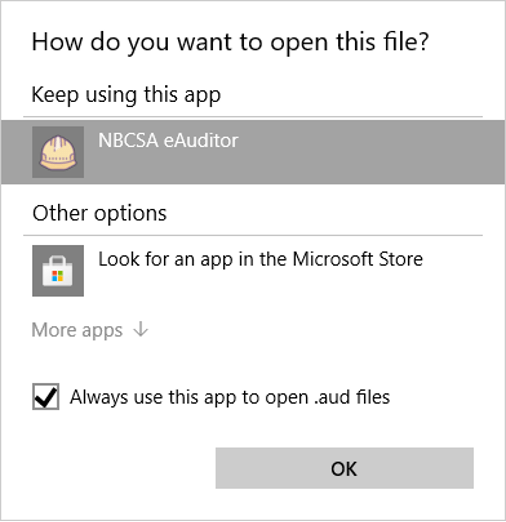 Click on "More apps" at the bottom of the list. If you have an option at the bottom of the list for "Always use this app to open .aud files" check it off.
Click on "Look for another app on this PC". Navigate to "C:\Program Files (x86)\NBCSA eAuditor".
Then select "NBCSA eAuditor.exe" as the program. If eAuditor is not present in the folder "C:\Program Files (x86)\NBCSA eAuditor" the program was not installed properly.
Error message saying "Audit locked. Please enter the access ID to open audit."
This is an error on NBCSAs end, please email cor@nbcsa.ca to receive another eAuditor file.
Error message saying "Documentation/Observation Entry – Unhandled exception has occurred in your application. If you click Continue, the application will ignore this error and attempt to continue. If you click Quit, the application will close immediately."
This error will not allow you to save your work, to fix it, ask your tech department for the rights to save to the documents folder.
Error message saying "The feature you are trying to use is on a network resource that is unavailable"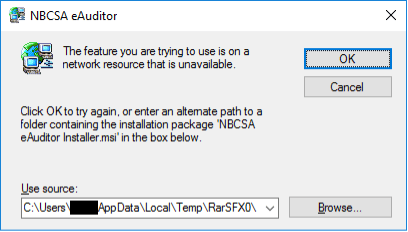 Here are your best options:
If this is not your first time using the installer program you can try uninstalling eAuditor, and reinstalling.
If you have an IT group to contact, ensure that you are not being blocked from installing this program properly by a virus scanner or other security software.
If the above-mentioned does not help there may be an issue with your temporary file directory, which is where the installation files for eAuditor are placed. You can try to download just the "NBCSA eAuditor Installer.msi" file mentioned in the error and install using that instead of the full installer. Grab it here.
Error message saying "Repair or Remove"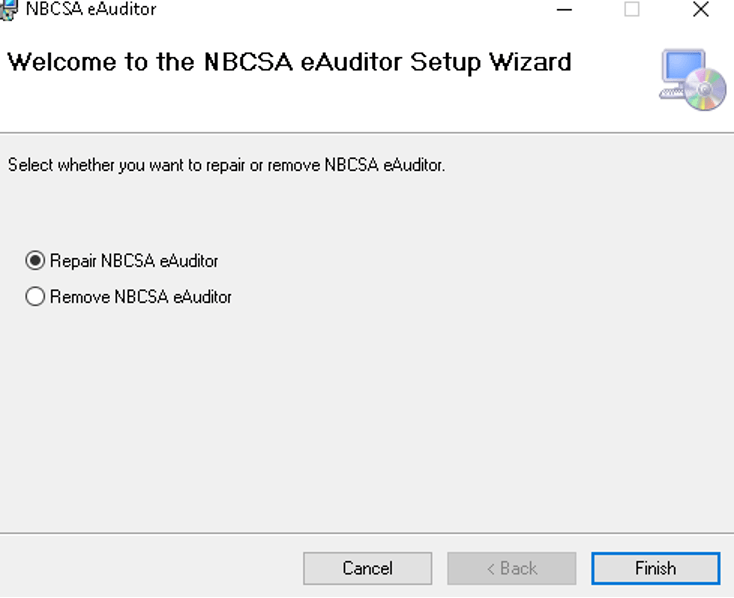 This error means you are trying to open the installer rather than the eAuditor file (.aud file). Copy and paste the eAuditor file from your Audit Kit email to your desktop and double click to open. Do not open the audit file directly from the email. You will lose any changes you make to the audit the next time you open it.
Warning message saying "This audit was created on (yyyy/mm/dd) and has been active for more than the 120 day limit (expiry date: yyyy/mm/dd). Please contact NBCSA for assistance."
The eAuditor is only writable for 120 days. If you have received the above warning your completion time has reached expiry. Please contact NBCSA COR Department and request a new eAuditor.
How do I submit my audit results to NBCSA for review?
When completed, simply attach (copy and paste) the eAuditor file (.aud file) from your desktop to an email and send it back to NBCSA via email. Please do not send back just the Audit Results Report, the eAuditor file (.aud file) is needed for processing your audit.
What is a NAICS code and where do I find it?
NAICS code is your North American Industrial Classification System code issued to you through WorkSafeNB. Your NAICS code is determined by the company's scope of work and can be found on your Experience Rating Form issued from WorkSafeNB.
Can multiple people work on and complete the audit using the eAuditor?
Yes, however, the eAuditor is not a web-based application, you can work on and share the same file with your saved progress to another auditor but must use the same file. It is important to note that when sharing the eAuditor, only one person can update your progress at a time.
How to save my progress?
The audit file that was opened is automatically updated without having to do a "Save" or "Save As" command. If you exit eAuditor and return later by double clicking the same audit file, your changes will be saved. If you run into an issue with corruption, please contact NBCSA immediately.
Interview boxes grayed out in the Questions section.
The interview questions need to be answered in the Interview section (2b. Enter Audit>Interviews). Once they are answered in the proper section they will show as answered in the Questions section. (Note: there are employee Interviews and Management Interviews, they both need to be answered for the audit to show as completed.)
Why are sections of the eAuditor not turning Green to show completion?
Please ensure that you mark all questions in the audit with either a check (for positive confirmation) or an X (for negative confirmation). To exclude a question, click the "X" in the blue box on the top left corner of the question. If you leave any questions blank the audit will not be considered completed.
Where to download the eAuditor program?
Here is where you can download the eAuditor installer: http://ajwsoft.com/eAuditor/dl.php?file=nbcsa
(Please note: NBCSA eAuditor is only available for Windows based PCs. It requires .NET Framework 4.6.1.)
*If you already have the eAuditor program installed on your computer, the above link may not take you through the installation steps, but rather, ask you to repair or remove the eAuditor program. See Repair or Remove instructions.