Effective Tools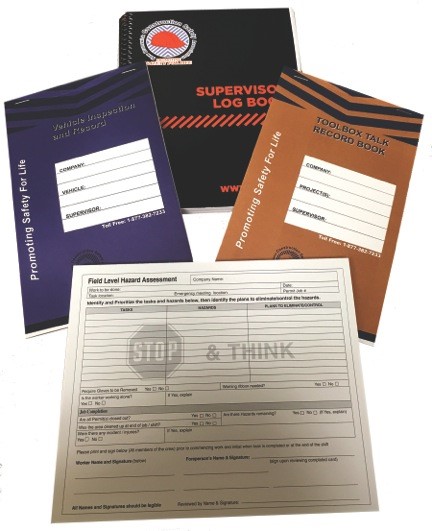 Pictured here are some of the tools that NBCSA can provide to your organization in order to better assist you with implementing an effective safety program and culture in your organization.
NBCSA COR® Certified Window Logos ($2.00 each)
Safety Manual Tabs ($8.00 per set)
Supervisor's Log Book ($15.00 each)
Tool Box Talks Carbonless Books ($7.95 each)
Vehicle Inspection and Record Carbonless Books ($7.95 each)
Field Level Hazard Assessment Checklist Booklets ($4.50 each) *each booklet contains 50 sheets.
**Shipping is not included in the price.
To order supplies, please email us.
Confined Space 2023 Legislation
Please click on the following link for an interactive presentation on the Confined Space 2023 Legislation: https://nbcsa.ca/content/confinedspace2023legislation/story.html